Dozens of suspected members of the 'Ndrangheta mafia were arrested on Wednesday in co-ordinated raids as part of what is being hailed as the biggest ever European Union operation against organised crime.
The raids were the culmination of an investigation codenamed Pollino that was launched in 2016 against the 'Ndrangheta criminal group on allegations of cocaine trafficking, money laundering, bribery and violence, said Eurojust, the European prosecution agency that fights cross-border organised crime, which coordinated the operation.
In an investigation that underscored an Italian crime syndicate's role as a leading player in worldwide cocaine trafficking, police in four countries arrested at least 84 suspected mobsters Wednesday in a series of carefully coordinated raids.
The group surpassed Sicily's Cosa Nostra and the Naples-based Camorra groups, according to AFP, due to its tight on the control of cocaine trade.
At least 90 people were arrested, and more than three tonnes of cocaine and 140kg of ecstasy were seized.
Millions of euro in laundered money was seized at the businesses and homes raided across the four countries, officials said, and several "high-ranking" members of 'Ndrangheta are believed to have been among those arrested.
In Germany, Wednesday's operation focused on restaurants, offices and apartments linked to the mafia group, focused on the North Rhine-Westphalia region, Der Spiegel reported.
"We send a clear message to organised crime groups across Europe".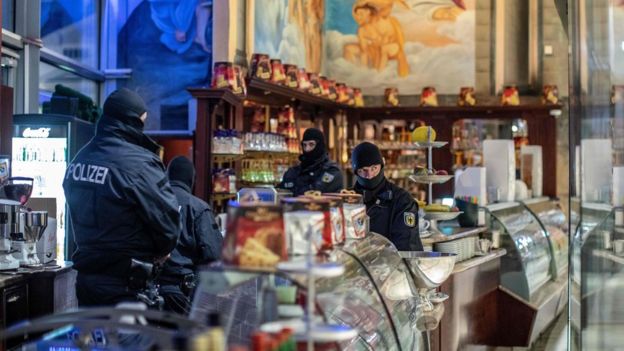 Police arrest 84 suspected mafia members in coordinated raids across four European countries
Some 2 million euros (2.3 million dollars) in criminal assets was seized, Eurojust Vice-President Filippo Spiezia said in The Hague.
Italian restaurants and ice cream parlours used to launder money were among the premises raided.
The 'Ndrangheta is considered the leading mafia group that managed to extend its reach even amid the scrutiny and constant arrests.
'Ndrangheta is one of five major world crime organizations operating out of Italy.
Dutch NOS television said the 'Ndrangheta were mainly active in the Netherlands in drug smuggling through the country's huge flower export market.
The European police agency Europol said it was a "decisive hit against one of the most powerful Italian criminal networks in the world".
The raids follow Tuesday's operation against the Sicilian Mafia in Palermo, which resulted in the capture of the syndicate's newly elected leader, 80-year-old jeweller Settimo Mineo, in addition to 45 other suspects.
Just under half of the suspects were detained in Italy.
More news: FL toddler battling cancer in need of extremely rare blood
More news: Mitchell Marsh dropped by Australia for series opener against India
More news: Salman Khan Tops Forbes India Highest Earning Celebrity List For Third Time